Get smarter. Get results.
Digital marketing strategies, tactics, and resources built by experts for people who want to grow their business.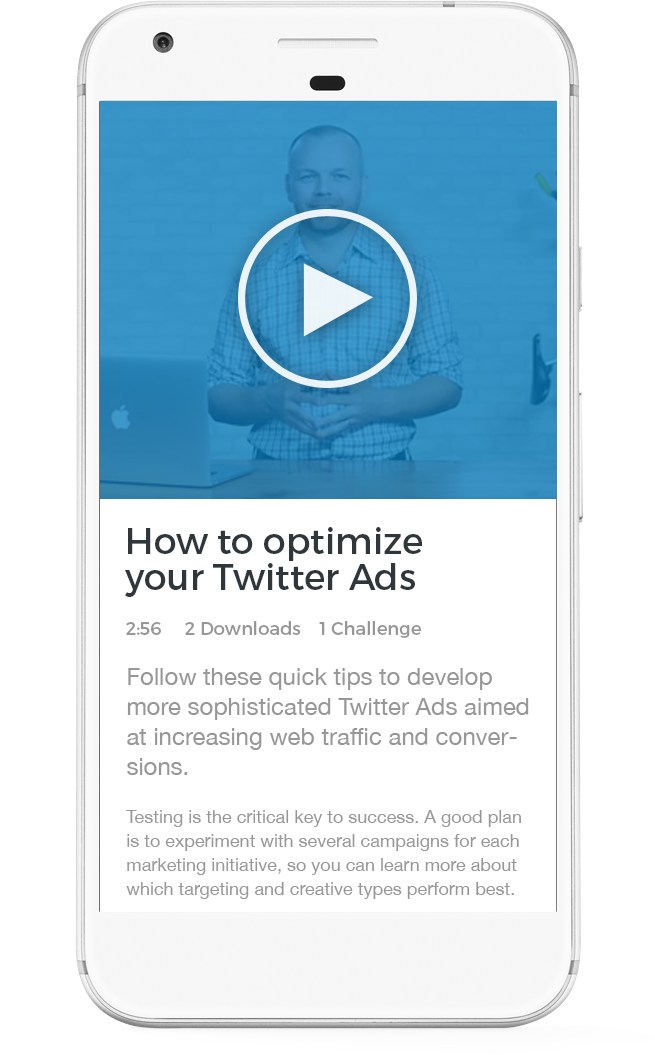 How you learn is important to us.
Topics we teach
With new content added monthly, you can rely on our expert teachers to train you in the latest strategies and keep your skills cutting edge.
Facebook
Strategy
SEO
Twitter
Instagram
AdWords
Analytics
Optimization
Email
Mobile
Video
Pinterest
Conversion
...
Expert-led trainings
Our trainings are crafted by digital marketing experts currently working in a variety of industries.
Always up-to-date
We make sure our trainings are always up-to-date to make sure you are always on top of the latest trends and tactics.
A smarter way to learn
The Lavawire community is made up of industry pros to beginners all focused on generating digital marketing results.
Built for small business success.
Leverage the Lavawire training platform and extensive library of expert-created content to grow your business.
Course Overview
With new content added monthly to our training library, you can rely on our expert teachers to help you learn the latest strategies and tactics and keep your skills cutting edge.
Get full access for only $87!
We've helped thousands of people like you
Lavawire's trainings are fantastic. They've helped us define and improve our digital marketing strategies.
These trainings gave me the confidence and skills to over-deliver on any task I am assigned at work
Thanks @lavawire! Trainings were simple to understand and the LinkedIn section helped me land my new job.
Still need your questions answered?
What equipment do I need to get started?
You need a computer, tablet or mobile phone and an internet connection. You may need additional access to social media or marketing platforms.
How long are all the trainings combined?
The training in its entirety is over 6 hours, and has been cut up into small, digestible, organized segments so you can refer back to it when you have questions.
What level of difficulty are these trainings?
Lavawire has been developed for people with little experience to an intermediate skill level. That being said, many marketing pros use our templates and resources daily.
What kind of support do you offer?
Lavawire offers chat and email support. We also have an exclusive Slack channel to connect with other students.
Who creates and teaches your curriculum?
Lavawire teachers are industry pros who have a passion for teaching people marketing skills and creating the highest quality courses available.
What topics does Lavawire cover?
Expect to learn a strong foundation in each topic area offered, including Strategy, SEO, AdWords, Email, Facebook, Twitter, LinkedIn, Mobile and more.
How much does Lavawire cost?
We're dedicated to providing top quality content that is affordable for everyone. Right now complete access to our entire training library is only $95/year.
Do you offer any scholarships, discounts or group memberships?
Yes and no. Currently we work directly with universities, colleges, and high schools to offer scholarships to their students. For group memberships and additional discounts email us at hello@lavawire.com.